We wanted to take a few minutes and talk to Stephen Murrill, the designer behind our Verses Pt. 1 Collection. He's talented, really tall and funny. Check it out!
Thank you for doing this interview! Can you tell us a little bit about yourself?
I am a designer and illustrator. I am the younger middle child of my parent's four children, am a graphic designer at a non-profit called CURE, and a co-owner of an apparel company called MAEBE CLOTH that is from my apartment in Lemoyne, Pennsylvania. I own 13 pairs of shoes, which is about average.
Are you self taught? Or did you study graphic design/typography?
I am self-taught. I went to school in pursuit of architectural design, after dreaming of being an architect for most of my life, and quickly realized it wasn't for me. It may have been the math, which I'm just terrible at. However, I did learn a few drawing techniques that I still use to this day. All those meticulously straight lines appear in my designs all the time. A few years forward I, accidently and unexpectedly, fell in love with design when friend asked me to create a postcard for his recording studio. It just snowballed from there. I spent the next few years with my nose in typography books, followed closely in the footsteps of designers that I admired and respected, and stayed up on Photoshop until six in the morning. I'm still learning. In the Spring of 2010, I enrolled in a graphic design program, which lasted a week. To say the least, it didn't get me a degree. I went on tour with my band on and off throughout that year, designing like crazy in between, and knew without a doubt that I had made the right choice learning design on my own. Not to say that going to school isn't a good idea, it just clearly wasn't for me.
Can you describe a "typical day at work" for you?
My alarm goes off at 8am. I usually hit snooze a three times, brush my teeth at least once and then I bike to the office by 8:30. I generally drink about half a French press of coffee by noon, and if it's Monday, Wednesday or Friday I get a burrito for lunch. After 5, I spend time with my super amazing girlfriend, do freelance work, and then go to bed. I'm usually tucked in by 1am.
Are their any tools of the trade that you couldn't live without?
Pencil, good paper, black ink pens, coffee. Everything, luckily excluding the coffee, ends up on my MacBook Pro.
If you could pick anything in the world to put on a t-shirt, what would it be?
A bear taking a swing at a mountain lion with a raccoon, a squirrel and a fox watching from the sidelines, and a buck fleeing the scene into a giant mountain peak. An eagle would find its way into that scene somehow. So, no one steal that idea please.
How/When did you first hear about walk in love.?
A few years ago a friend of mine was wearing a wil. shirt, and I remember thinking, "man, that's a sweet shirt." I often would go online to check out the new styles you had. I really admire how you started and how you run your company. Then last year at Purple Door I met you guys, and walk in love. got even cooler. Seriously, you guys are awesome.
What's your favorite thing you've ever created?
It would probably be the Rocket Pencil. It sort of drew itself.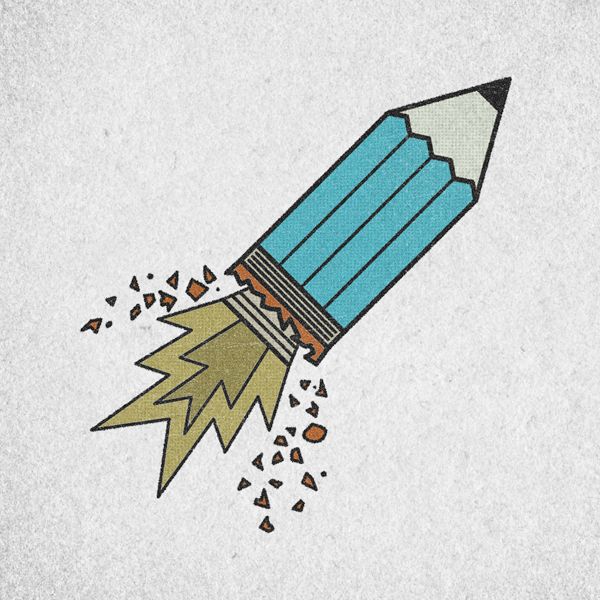 A huge thanks to Stephen for doing this interview and for designing our entire Verses Pt. 1 Collection. What a talented guy!