Ohhh man, these photos make me feel like summertime is literally right around the corner -- which would be awesome. Iced coffees, tank tops, playing frisbee, bike rides... swimming!?!?! Ahh ... I'm getting ahead of myself. It's currently like 40 degrees outside and some man is cleaning our streets super-loud. Not so much the summery vibe that Tori gives off in these How To Wear It, Wednesday images.
Tori's rocking our How Marvelous, How Wonderful gold tee - along with a black bow necklace we sold awhile back, and our new (perfect for a summer party!!!) paper straws. (Available in grey and blue.)
How do you wear it?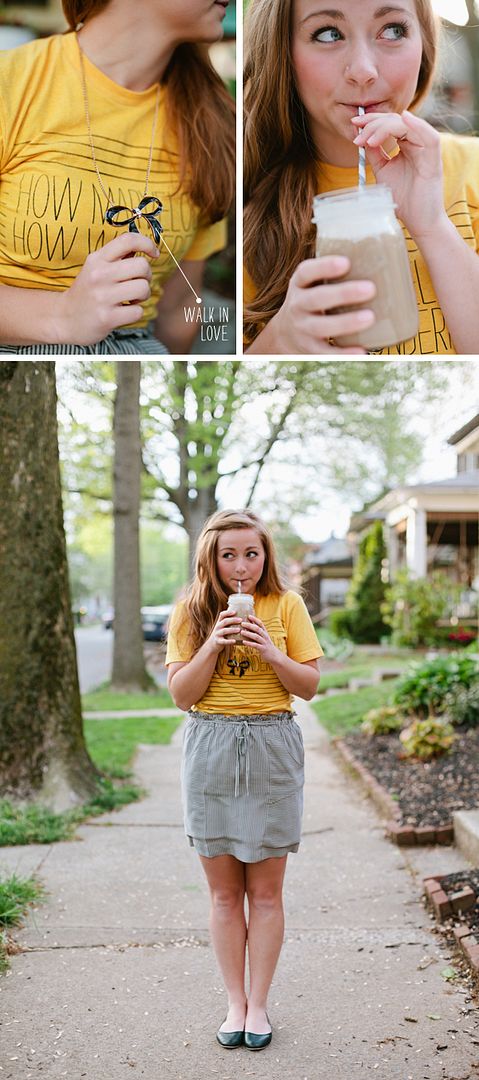 The weather's getting warmer everyday and we've got loads of new products in the store .. so, if you have a styled outfit you'd like to submit for How To Wear It, Wednesday, please email your photos to submissions@shopwalkinlove.com, titled "How To Wear It Submission". You must feature at least three (3) walk in love. items, or three (3) items that can be purchased in our store in your submission. If your outfit is chosen for a blog post, I will contact you with details and set up a time to shoot your look. If you've submitted an outfit recently and no one responded to your email, please resend it! My email can be a little funky sometimes. Thanks!
Photos by: Brooke Courtney Photography