I first met Lydia this past summer when I shot her senior photos. Her older sister, Chelsea, has been in photos for us before and she's super lovely - so I couldn't wait to shoot Lydia!! Not long after her senior session, I asked her to be in our Live Loud lookbook and she was great. She smiles a lot and is downright beautiful. I have no doubt that she'll go far in life.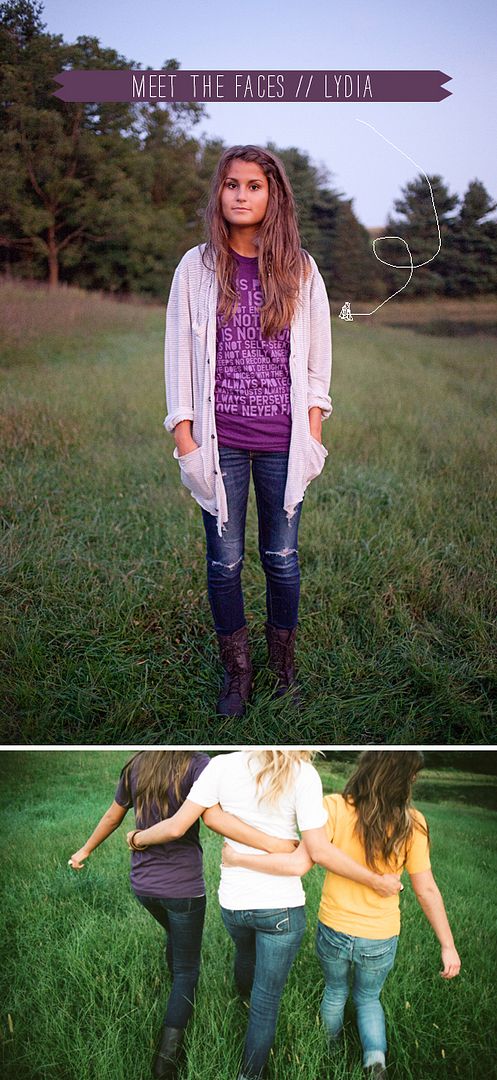 Name: Lydia Gingrich
Age: 17
Are you currently in school? If so, where and why? Yeah. Hempfield Highschool ... because I gotta graduate!
One word that describes you: Curious.
Would you bungee jump? As I answer the question, DEFINITELY YES. But, when the time came to do it I would probably pass out.
What album and or band changed your life? Okay, this is embarassing but, the Jonas Brothers! They were the first legit concert I ever went to - and I totally fell head over heels for Joe! Hahah...
What color shoes are you wearing right now? None. I only wear shoes when I have to.
Were you named after anyone? Actually, yes! Lydia is from the bible and my middle name is Mae after my Great Grandma.
Favorite walk in love. item to wear - and why? I am in love with all of the tees. Between my sister and I, we proabably have every single shirt! But, if I had to choose my favorite design is "Love Is" tee. It's so easy to throw on with a pair of jeans.. and it makes for such a cute outfit.