I'm kicking off round two of our Meet The Faces series with the ever adorable Nicole. I'd never met Nicole prior to shooting with her for the first time, which was a little over a year ago. I had asked my brother if he knew any red-heads, since I did not, and he suggested Nicole. Naturally I stalked her on Facebook for a day or two before writing her a message asking her to be in some of our photos. Nicole came to my house for our first photo session and the second she walked through my door I knew we'd be friends.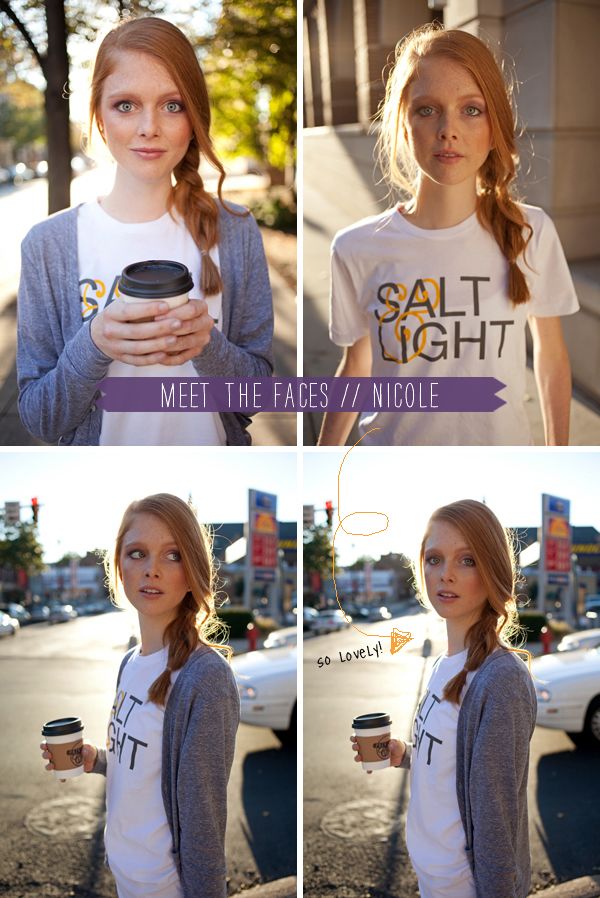 Nicole is smart. Like, currently doing some sort of schooling in England smart. It's so wonderful to have her along on shoots because she keeps the conversation going and is incredibly encouraging to everyone around her. In fact, I'd like her to come back from England so I can shoot her all the time! You hear that Nicole? Come home. I know we don't have charming accents or Prince Harry, but I can give you super-fun Smilebooth parties and free t-shirts.
MEET THE FACES INTERVIEW:
Name: Nicole Cascio
Age: 22
Are you currently in school? If so, where and why? As a matter a fact, I am. Currently, I am studying for my Masters degree in England at the University of Bristol. Eep!!
One word that describes you: Impossible. Not me, this question.
Coffee or Tea? In the morning, coffee. At night, tea.
What is your favorite color? Orange
What Album and/or Band changed your life? Oh dear. This question is terrible - like when an Oscar nominee tries to thank everyone that supported their success...someone always gets left out. PASS. (If Michael Buble wanted to spend forever singing to me, I'd be content.)
Do you have a special talent? You know those people who are pretty good at a wide array of things, but not really spectacular at any one thing...yea, that's me.
Which one fashion accessory do you like better than others? Does footwear count? I'm not so into accessories, but this girl has a serious shoe crush.
Favorite walk in love. item to wear. Why? I really love my womens-fit blank tees, they are suuuper soft. But when I return stateside, I would like to get my hands on something with sleeves (WIL sweatshirt perhaps?).