Hey Everyone - Brooke here! I wanted to take just a minute to talk about our kiosk that opened at the Park City Mall on Monday. First of all, it's going great! We're meeting lots of new people, selling our shirts... and having too much fun with our new moustache stickers (as expected).
This past Sunday evening T.J. and I set-up our kiosk. The mall closes at 6:30 on Sundays, so by 7:00pm we were at the mall with dozens of boxes in hand. Thank goodness Starbucks was open 'til 7:00! As we pulled into the mall parking lot, in the "awesome-van", I exclaimed "Their lights are on!!! RUN!!!" I sprinted into Starbucks with 4 minutes to spare. We knew we'd be at the mall for awhile so any kind of inspiration (aka, caffeine) was welcome.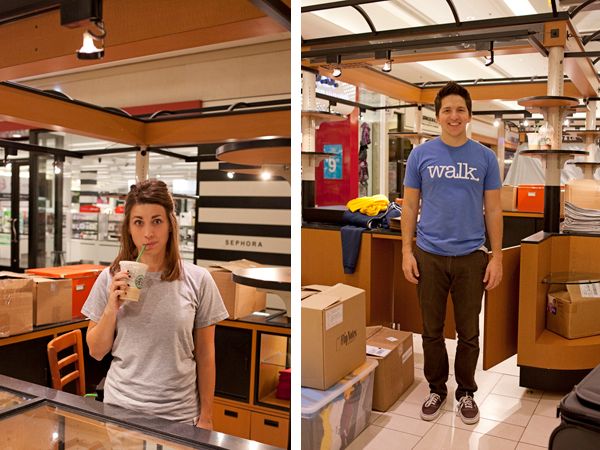 T.J. and I were at the mall until 11:30 that night un-boxing product, filling our shelves, setting up the POS system and windexing all of our shiny glass cases! It took us awhile to figure out where we wanted everything to go - but we love the way it turned out. I shot some photos two nights ago, right before we closed. If you're in the Lancaster area be sure to visit us this holiday season! We're down the JCPenney wing. We're looking forward to seeing and meeting all of you!