In July 2005, I started walk in love. clothing. At that time it was just called walk in love. and it was started with one goal. That goal was to raise money for a mission trip to Russia with my dad to set up Christian sports camps. I really had no idea what I was getting myself into. Here is a brief 5 year history of walk in love. clothing.
It all started with 100 royal blue t-shirts (pictured on right) that I sold to friends, family and on myspace. Pictured on the right is melissa who was the first person ever to buy a shirt online. If you are still following out there, Thanks Melissa! That meant the world to me. After selling out of the blue shirts I started to add the original green, pictured on the left.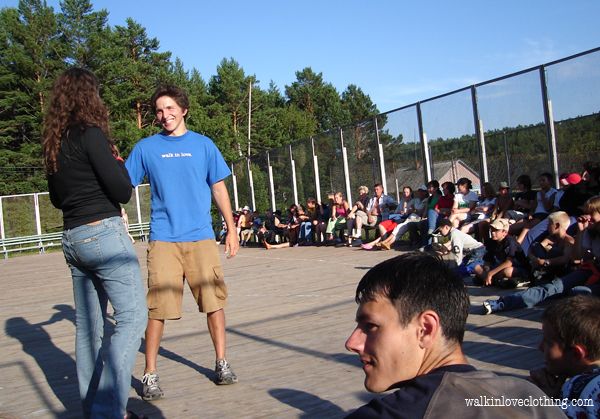 In July 2006 I was able to go to Russia. I have since been able to go in 2007 and 2008. I also hope to go in the future! This is a photo of me giving my testimony to campers in Irkutsk. One of the best months of my life.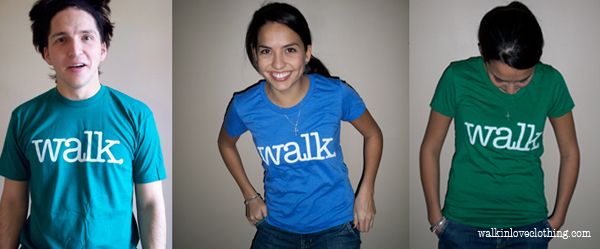 After selling shirts for a couple of years I really developed a passion for t-shirts, clothing and design. I extended our designs in late 2007 and really started to feel God pushing me toward a clothing company, so I followed the call on my heart.
Once the new line came out I decided that I needed professional photos of the new shirts. There was a cute brunette that went my church at the time who was a professional photographer so I contacted her about photos. Here name was
Brooke Courtney
. She agreed and two years later I married her. Awesome!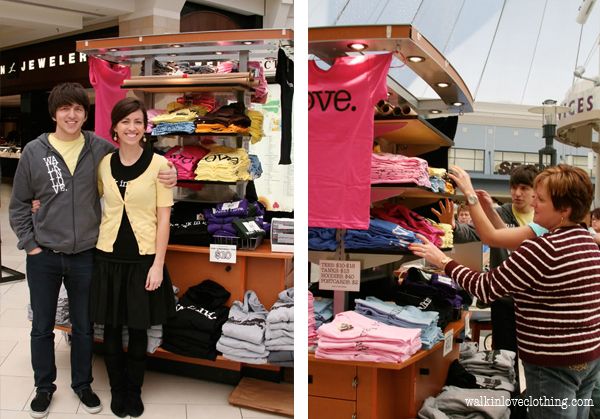 In 2008 we took our biggest risk to date and opened up a three day kiosk in Park City Mall. It went so well that we extended our stay in 2009 and are extending our stay again in 2010.
Other than the kiosk and selling shirts through our online store walk in love clothing wants to expand it's reach by collaborating with other artist to create awesome, positive, inspiring t-shirts, clothing and accessories.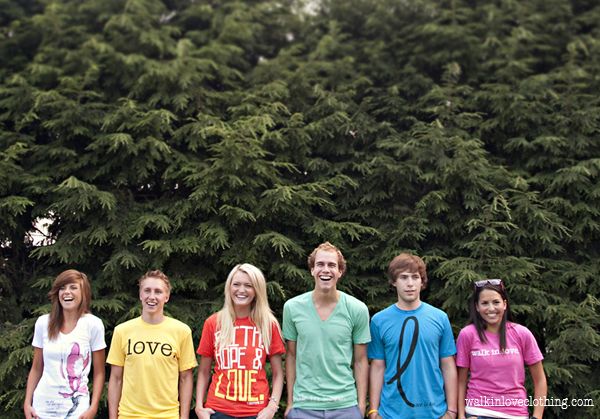 Earlier this month we came out with our 2010 summer line and took it to Creation Music Festival. It was such a blessing to hear all the wonderful and positive feedback from people at Creation. I've put a lot of sweat, passion and tears into walk in love. clothing. I still remember the first time I got an e-mail telling me that I sold a shirt online. I remember packing all my shirt boxes and taking them to college to sit in my room and then packing them and taking them all home. I remember the first time I felt like I had failed and we only sold 20 shirts at Purple Door. I also remember going back to Purple Door 2 years later and selling hundreds of shirts. I remember the summers in Russia feeling God's holy spirit filling me to make kids laugh and draw them closer to His love and grace. I remember the joy and smiles kids would have as we handed out hundreds of shirts to campers one summer. I remember sending a facebook message to Brooke asking for photos, and I also remember realizing that she was going to join me in this journey. I remember it all and I've enjoyed every second of these five years.
Selling t-shirts is my passion and I believe that God has given me that passion for His purpose. A lot of people always ask what walk in love. clothing is all about. Here is my answer: walk in love. clothing has and will always be a passionate group of people designing, marketing, selling and wearing t-shirts to glorify God and expand his kingdom.
To everyone who has bought or wore a shirt over the last five years I want to thank you. It means more to me than you will ever know.
Happy Five Years!
T.J.