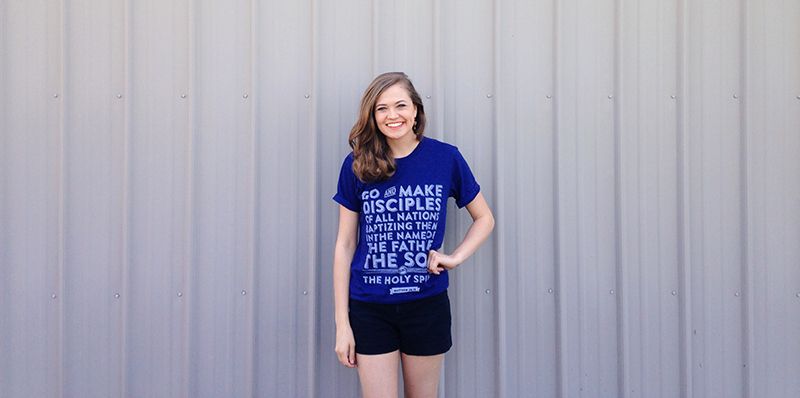 Hello from Tennessee!
It is week 7 of my Discipleship Training School with Youth With A Mission, and I am beyond blessed to be here. It is an incredible privilege to have 6 months set apart to learn more about God, grow with Him, and be stretched and transformed. Thank you again to everyone who has been supporting me financially and spiritually through this journey!
One topic we've been studying is hearing the voice of God, and last week I got to experience just how real and clearly He can and does speak.
Every Friday evening my class does some form of evangelism, and last week we went to the projects neighborhood of a nearby town. Instead of going door to door, we sat in prayer beforehand and asked God to speak to us whom He wanted each of us to talk to, and what He wanted us to tell them. God showed me a black shirt and a horseshoe, and to share with this person how valuable and important to Him they are. I thought, okay that's pretty darn specific, God, I really hope this is from you! 
We broke off into small groups and walked where we felt Him leading, keeping alert for the people He spoke to us. And to my amazement, we eventually passed a house with a horseshoe decoratively hung outside. Excitedly (and honestly, a bit nervously) I walked up to the door to knock, when I heard a voice calling from down the street. She'd heard me pointing out the horseshoe on her house and wondered why on earth I was so enraptured with it. 
We walked over to the woman, who also happened to be wearing a black shirt, and I shared with her what God had spoken to me, and shared the word He had given me for her. Now it would be awesome to tell you that she was moved to tears or something like that, but in reality even though she was a believer, she was freaked out in that moment! "God told you all that?" "God showed you a horseshoe and you've been looking for me?" She didn't even want us to pray for her right there she was so startled over the situation and how God worked and moved for her. But I know it got her thinking.
God speaks in infinite ways – circumstances, inner voice, audible voice, other people, dreams, visions, creation, his Word, to name a few – and loves communicating with us in relationship.  We are His friends, His co-laborers, His sheep who hear His voice. Tune in to what God is speaking to you in this moment, and respond – I guarantee it is for your good and His glory.
John 10:27-28My sheep hear My voice, and I know them, and they follow Me.  And I give them eternal life, and they shall never perish; neither shall anyone snatch them out of My hand.
Again, I want to thank the walk in love. community for supporting me through donation and the #SendLauratoYWAM shirt!  I just received mine in the mail and am loving it!  It's the perfect reminder of why I am here and what my purpose is! Make sure you follow me on Instagram to see what I am up to in Nashvilee - @lauratileston
Thanks - Laura